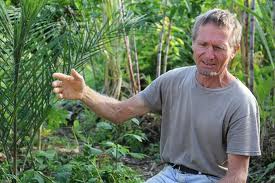 Click on the above images to play the videos.
A Swiss farmer named Ernst Götsch (Goetsch) has developed an agroforestry system based on natural succession of species and soil recovery.   Götsch, who moved to Brazil in the 80's, has successfully proliferated his techniques throughout South America and Europe.
Using a productive agriculture design free of artificial fertilizer, he has revived 480 hectares (1,200 acres) of degraded soil in south Bahia (Brazil). The farm has developed its own microclimate, water flows again in 14 springs, and wildlife has repopulated the area. What began as an experiment in mimicking nature has become a model sustainable farming system in an area otherwise awash in slash-and-burn agriculture.  The forest-farming techniques have been adapted to a variety of climates and  conditions for the last 30 years.
A film documentary of Götsch's work is currently in production: http://www.agendagotsch.com/